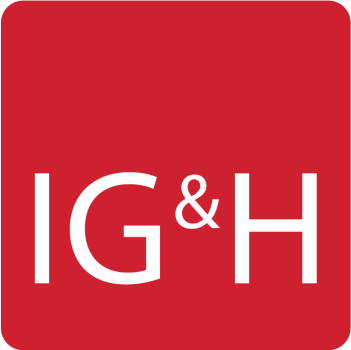 Website

Sector

Data Science, Strategy Consultancy, Healthcare, Retail, Financial Services

Required language

Dutch, English

Location

Utrecht
About IG&H
IG&H is a leading consultant in the Health, Retail and Finance sectors. With over 350 colleagues, we advise our clients with end-to-end digital transformation. This means that we help them in becoming a more data-driven and digitalized company. To do so, IG&H (often) starts with writing a suitable strategy, after which we are able to assist in the implementation of it. This requires a wide range of skills, such as strategy consulting, building, and developing websites, help people in working data-driven, developing and implementing algorithms, and much more.
The IG&H Data & Analytics team consists of 35 people, with a wide variety of backgrounds, all sharing a passion for data. The team's skill set is broad, ranging from developing 'hard-core' technical solutions to helping clients understand the solutions that we build.
We work on a project basis in teams with a varying size and mostly with different disciplines. For example: when building a website we have consultants, website developers, UX/UI designers, data scientists and data engineers all working on the same team. We discuss topics together, but when work needs to be done, we dive into the data. We call this 'smart collaboration'.
Other core values are 'people first', 'caring and daring', 'client relevance' and 'outstanding'. We believe that when we are happy, when we dare to do new things (and also dare to make mistakes), we can learn quickly and at the same time deliver outstanding results.
When working for us, you will get to:
Work across different sectors, so you can discover what you find interesting;
Experience the different sides of data analytics, from building advanced data pipelines to developing AI models to presenting solutions to our clients; in this way, you can discover what you like and in which field you would like to develop;
Start in our Junior IG&H Academy, in which you will get introduced to consulting through an extensive training program. This continues throughout your entire career at IG&H. With the Data & Analytics team, we also keep ourselves up-to-date through weekly knowledge sharing sessions and regular workshops;
Actively help us grow and develop the team. We are growing quickly, both in the number of people and expertise, and our people are the reason why;
Have fun! With many social team and company events, IG&H is a great place to start. It is one of the reasons why IG&H is a Great Place To Work (yes, even certified!);
Work on social responsible projects, ranging from environmental to social to responsible leadership…
…and much more!
For our Data & Analytics team we are looking for (almost/recent) graduate Data Scientists and Data Engineers, with a passion for data and programming.
Feel free to contact any member of the Data & Analytics team if you have any questions about (working at) IG&H!
For more information, visit our website.