Company

Type

Internships

Location

Amsterdam

Sector

Consultancy, Financial Risk Management, Other

Required language

Dutch, English

Website
Description
Wil jij publieke instellingen en andere organisaties helpen en aanmoedigen om verantwoord om te gaan met algoritmen? Kom bij ons werken bij Deloitte.
What impact will you make?
Algoritmes zijn een efficiënte en effectieve manier om onderbouwde en datagedreven beslissingen te nemen. Daarmee zijn algoritmen nu en in de toekomst cruciaal voor veel organisaties om te blijven bestaan. Algoritmes (gebruikt voor machine learning en andere vormen van kunstmatige intelligentie) worden – direct of indirect – gebruikt bij veel beslissingen die door openbare instellingen en bedrijfsorganisaties gemaakt worden. Algoritmes kunnen bijvoorbeeld worden gebruikt om geautomatiseerde beslissingen te nemen, specifiek gedrag te voorspellen of classificaties te maken met behulp van (persoons)gegevens.
Daarmee hebben algoritmes invloed op de samenleving als geheel. Wij zijn er dan ook van overtuigd dat deze algoritmes op een verantwoorde en veilige manier moeten worden ontwikkeld, beoordeeld, gebruikt en onderhouden. Door algoritmes op een verantwoorde en veilige manier te gebruiken en te onderhouden, wordt ervoor gezorgd dat deze algoritmes nauwkeurig, transparant, verklaarbaar en vrij van vooroordelen zijn.
Als Deloitte is het onze missie om onze klanten te helpen een verantwoorde organisatie te zijn. Als werkstudent in het team Responsible Algorithms kun je een positieve impact maken op onze klanten en de samenleving door methodieken en kaders te ontwikkelen om algoritmes verantwoord in te zetten. Wij geloven dat het belangrijk is om juist nu het fundament te leggen voor verantwoord gebruik van algoritmen bij onze klanten en de samenleving.
Je maakt deel uit van het team dat deze oplossingen aan onze klanten levert. Naast het werken aan klantprojecten ondersteun je ook bij het opstellen van voorstellen, klantbijeenkomsten, workshops en draag je bij aan onderzoek en het schrijven van artikelen. We bevorderen een samenwerkingscultuur waarin onze getalenteerde collega's hun beste werk kunnen leveren en we waarderen innovatief denken en diverse inzichten. We werken nauw samen met universiteiten om gezamenlijk onderzoek te doen en met andere spelers in het verantwoordelijke algoritmedomein.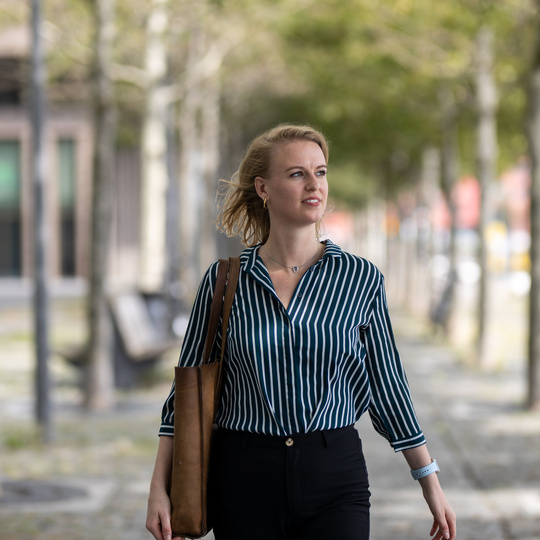 This is how
Ontwikkelen van methodieken en kaderd om onze klanten te helpen algoritmes verantwoord te gebruiken. Deze kaders beschrijven bijvoorbeeld hoe algoritmen uitlegbaar kunnen worden gemaakt, hoe vooroordelen (bias) kan worden gedetecteerd en hoe algoritmen voor elke specifieke klant kunnen worden beheerd;
Beoordeel of algoritmes bij bijvoorbeeld openbare instellingen (bijv. overheden) of andere organisaties nauwkeurig, transparant, verklaarbaar en vrij van vooroordelen zijn;
Neem het initiatief en de verantwoordelijkheid om presentatiemateriaal te leveren en inzichten en aanbevelingen aan de klant te communiceren;
Werk samen met klanten en collega's van diverse teams van Deloitte om de beste oplossing voor elke klant te leveren;
What we offer
Een vast salaris.

Een development program waardoor je je doorlopend blijft ontwikkelen.

Vergoeding om een thuiswerkplek in te richten om te zorgen dat je op een ergonomisch verantwoorde manier kunt werken.

Flexibele werktijden, je deelt je eigen agenda in.
What you offer
Als het gaat om de sociale aspecten van het werk, ben je overal klaar voor. Je vindt het leuk om nieuwe dingen te proberen en te blijven leren, ook als er tegenslagen zijn. Tegelijkertijd beschik je over sterke analytische en probleemoplossende vaardigheden. Je bent toegewijd aan je persoonlijke doelen en ontwikkelingen, aan onze klanten en aan onze gemeenschap en onze waarden.
Voor de rol van Werkstudent beschik je verder over:
een afgeronde bachelor - je hebt bijna je master behaald aan een Nederlandse universiteit. Deze graad moet een wetenschappelijk of technisch onderwerp zijn, bij voorkeur in Data Science, Econometrics, Quantitative Finance, (Applied) Mathematics, Artificial Intelligence, Business Analytics of een vergelijkbare opleiding;
goede beheersing van geschreven en gesproken Engels en Nederlands;
affiniteit met kwantitatieve modellering en/of programmeren, en uitstekende analytische vaardigheden;
minimaal 3 maanden beschikbaar voor 3-5 dagen per week (startdatum in overleg);
ambitieus, onafhankelijk, energiek en in staat om onder druk te presteren;
een team speler;
goede communicatieve vaardigheden.
Jouw expertise deel je met zo'n 40 andere collega's in het Market & ALM-team dat onderdeel is van Deloitte Risk Advisory. Ons team hanteert kwantitatieve methoden en technieken om diversie vraagstukken binnen modelontwikkeling en -validatie op te lossen. Hierbij valt te denken aan modelleertechnieken uit de Quantitative Finance, statistiek en toegepaste wiskunde. Daarnaast kijken wij ook naar de impact van wet– en regelgeving op markt- krediet- en actuariële risico's.
Binnen deze afdeling vinden we het belangrijk om jezelf continu te ontwikkelen. Daarom hechten we veel waarde aan innovatie en persoonlijke ontwikkeling.
Let's get down to business
Bij Deloitte staan we open voor alle mensen die kwaliteit en ambitie meebrengen. We zijn dan ook benieuwd wie jíj bent.
Sollicitatieproces
Wij zijn op zoek naar gedreven professionals, met passie voor hun vak en ambitie om zichzelf te blijven ontwikkelen. Middels onderstaande stappen proberen we zo veel mogelijk over jou en je kennis en kunde te weten te komen. De recruiter begeleidt je door dit traject.